Tractorologist
Staff member
Administrator
Last week when I was mowing I went to use my Stihl weed eater and the primer bulb busted so I set it aside and thought I'd fix it next time I mow. This morning I went out to mow and changed out the primer bulb on the weed eater. Got it changed and it still wouldn't run hardly at all. I pulled the plug and it looked wet so I cleaned the plug and pulled the starter rope a few times with the plug out. Lots of fuel shot out of the sparkplug hole and it didn't smell right to me. The new primer bulb was full but didn't have the right color of liquid in it for 2 cycle mix. I decided to check the gas in the take so I poured it into a mason jar to look at it.
Wow, was I surprised at what I saw, this is out of my weed eater tank.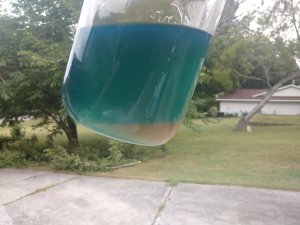 This gas is only a month out of the pump at the station. As some of you remember I have been running Avation gas for the past 6 or 7 years now with absolutely no issues at all. I ran out on a Sunday and went to the gas station and bought a gallon of regular unleaded gas to get me by. I should have replaced it that following week but thought it would be ok to burn it up since I use a gallon a month with my weed eater and blower.
This is what I got out of my gas can. Hard to believe 1 month old gas would have this much water in it but there it is. The gas station I use is a high volume Circle K.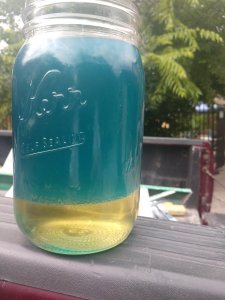 I also had to clean the carb and it was dirty from just having that bad gas in it for a couple weeks.
Monday or Tuesday I'll be stopping by our little local airport and getting more AV100 to run in my stuff. I'll just have to do a better job making sure I have enough gas for the weekends and not run out again.
Last edited: