Alice's Creator
Staff member
Moderator
Senior Member
This has the Tecumseh V60 engine. The gas tank is full of holes and the carb is corroded badly. No parts around here to fix it so I am going to swap it out for a 6HP B&S. Got around to this yesterday and found with the deck lifted, it was nearly balanced on the front axle. Didn't take much to lift the rear and put blocks under it to take the pulley off and get the engine mount bolts out.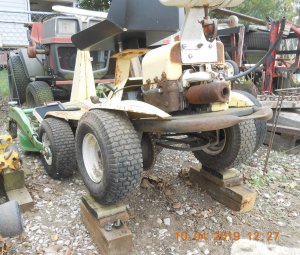 I got lucky on the pulley. It is held on the engine with a bolt into the crank plus 2 set screws. That all came loose easily and the pulley slid right off.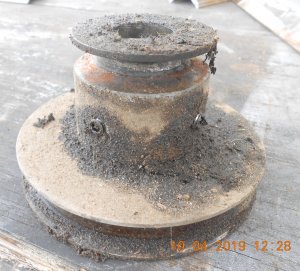 Took the throttle cable and 4 bolts off and the engine out of there.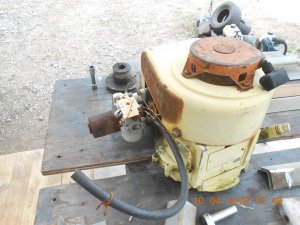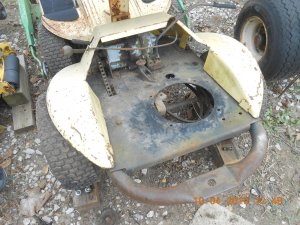 Here's the donor engine.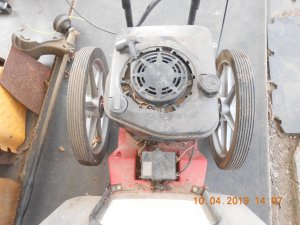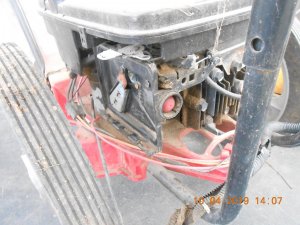 It's on a weedwhacker frame. It was given to me some time back. When I went looking for parts for it, I found there was a recall on these due to injuries. Recall said to destroy the machine, so I will do that once the engine is off. It does have an electric starter, you can see the little battery in the first pic. But is starts real easily with the pull rope.
I need to set the Tecumseh back on the frame and get some measurements for the crank center as I am sure the bolt holes won't be the same for the B&S. Also, the Tecumseh has a 1" crank and the B&S has a 7/8". Already have found the sleeve for that. Throttle is in a different spot also.