Bill from Northampton County, Pennsylvania
Senior Member
Member
This is what a battery looks like when it explodes.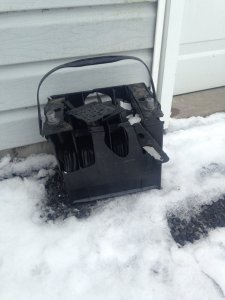 This happened about a week ago. Just touched the starter button on my Yanmar when it went. Sounded like a 12ga shot gun going off in the garage. Fortunately I had the hood down and no major damage to the tractor. Though I can't say that about my ears. Still have some ringing in them.
Found no wiring shorts that could have caused it and came to the conclusion that the battery must have shorted out internally. Never in all my years of messing with batteries have I ever witnessed this and don't want to again.!!!!