Tractorologist
Senior Member
Member
Since the hydraulic accessories are not moveable when disconnected from my tractor (chute rotation, etc), I want a small (and cheap) power pack to be able to move the cylinder as I need.
In hand I have
- a 3/4hp electric motor
- many power steering pumps from mark 2 vw's. Those build around 1000psi which is more than I need
- a single spool valve without float since I bought a kit from a 1655/1855 and installed the valve with float on my 1655 to add the 3rd spool
I will probably use 1 or 2 portable camping propane tank as reservoirs, I will weld NPT bungs for input and output and also a big one, 2" probably as a filler port. That will help fill the implements if they are empty and prevent the pump from running dry.
I did assemble the single spool with the 2 ends, new o-rings everywhere and proper length bolts.
I don't know the power requirement of the power steering pump but I guess it's way higher than what a 3/4hp could do therefore I will try by reducing the pump's rpm. Since I have a standard bolt pattern on my 1655 for the PTO speed reduction, I will re-use this pattern and I will be able to test with the 9" (or 10"?) pulleys I already have. Those are W-size pulleys, it's easy to get other sizes and I simply have to drill the 3 holes of my bolt pattern.
Here is what I have accomplished so far.
First I found a channel that is the exact right size to use for mounting the pump!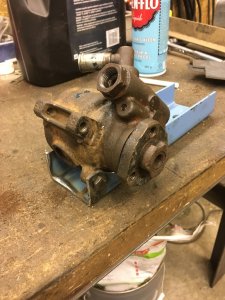 Then I machined a replacement hub for the pump to use W-sized pulleys and my bolt pattern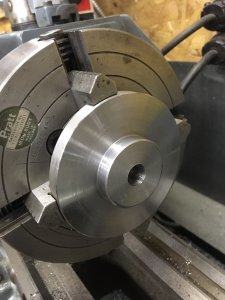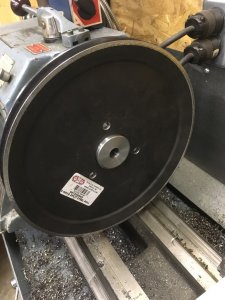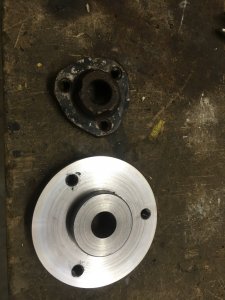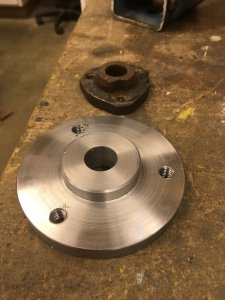 The pump looks tiny!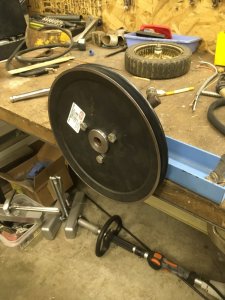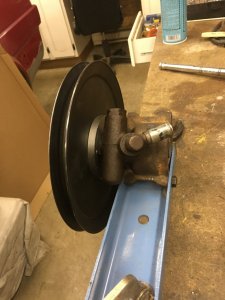 Next step will probably be to make a frame to join the pump's bracket and the motor.