Tractorologist
Staff member
Administrator
They aren't new by any stretch, but there is lots of meat left to hold up a GT, golf cart or even out TO35 Farm tractor over a small crossing.  
I haven't made any progress on the project, but I now have more raw materials.
These are almost 12" sq and 10' long.  The Roper was the ticket for loading.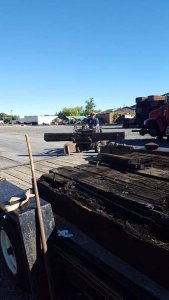 The worst of them is the one closest to the camera and it's still 5" @the thin part.
If I have to use it, I'll put it in the center where no one will drive.
Last edited by a moderator: