Tractorologist
Senior Member
Member
Was the first week of March 1971, we had a bunch of snow on the ground. So much my brother and I didn't want to put on our snow shows and go hunt show shoe rabbits. Most likely we were watching a hockey game on the tube Saturday when my hunting partner pulled in pulling a trailer. He comes in and says get dressed and come see what I bought.
Go out and see he has a 1969 Scorpion snow mobile he bought used. We got it unloaded and he took me for a ride, it was a long ride down a couple country gravel (icy) roads to the near by lake. Rode around on the lake a bit then took a snowmobile trail people had made off the lake on a power line. That took us to some state land with groomed snowmobile trails. We rode about 4 hours total by the time we got back home. We ate a lunch then went out and took turns rideing in the hay fields and other fields.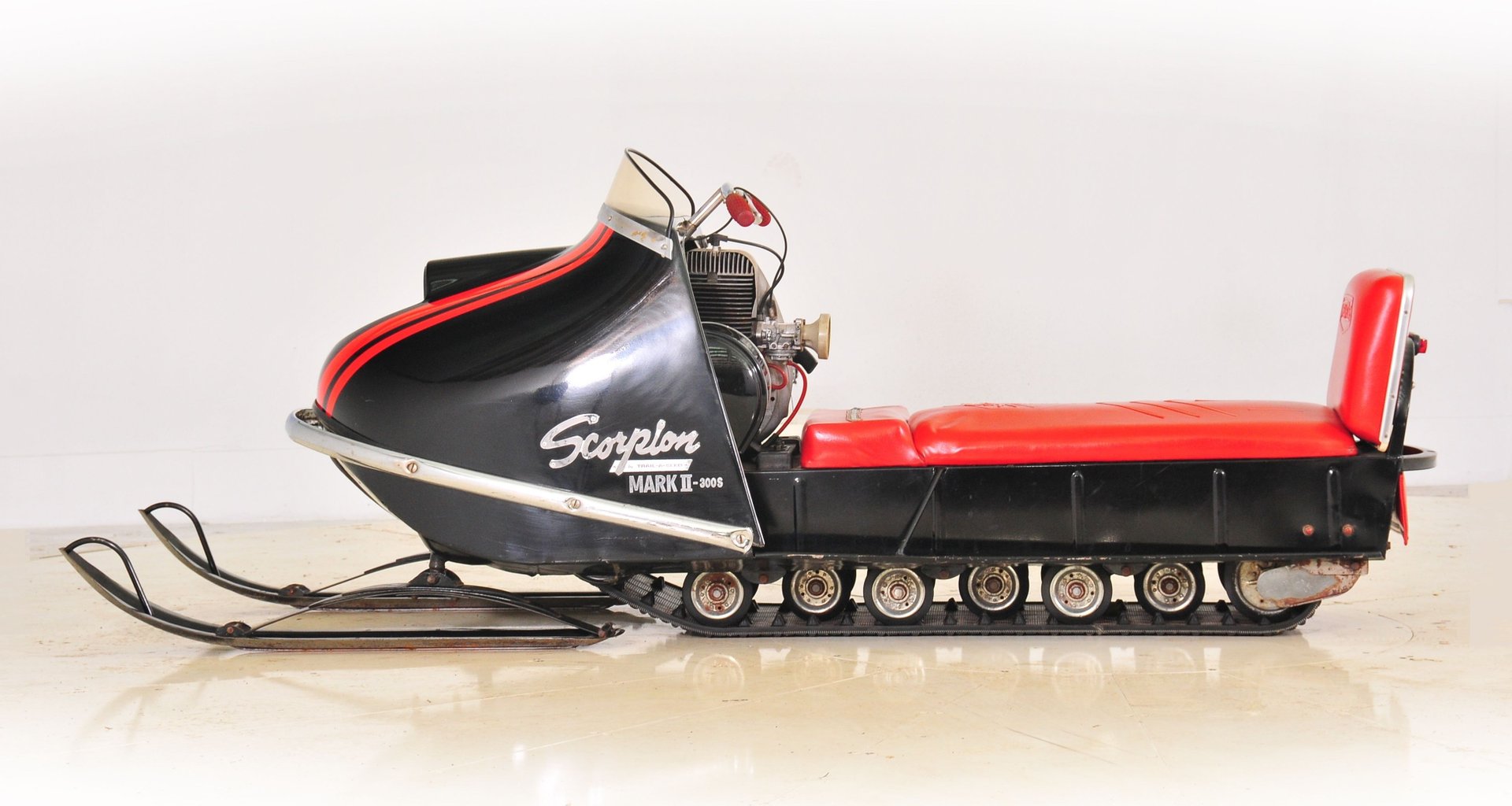 Man I love this, what a way to enjoy a winter day when the snow is neck deep on a very tall giraffe. Sunday was pretty much a repete we rode to the state land and followed trails that were not groomed and came to a deep bowl where snowmobiles were climbing the steeper sides. We watched them for a while then took turns climbing and even a few times rideing double.
After about another 4 hours we headed back to the house so my partner could head home and work Monday.
I worked second shift so didn't have to leave for work till about 3:30PM. Decided I liked snowmobileing so much I am going to go shopping.
For some reason, I don't know why I was not impressed with the Johnson ski horse. I think it is because when I grabed the rear bumper it weighed a ton and several hundred more pounds it seemed. Looked at a Sno Prince and it was sort of nice but Yellow. Even then I was JD yellow shy.
I knew the place where I bought my Mercury boat motors and had them serviced sold snow mobiles. Red Rupp brand. but they were all sold out but had a Mercury Rocket 25HP beautiful Black and sleek looking left. It followed me home and I knew I would not be able to ride it the next week end as it was 67F and snow was melting fast.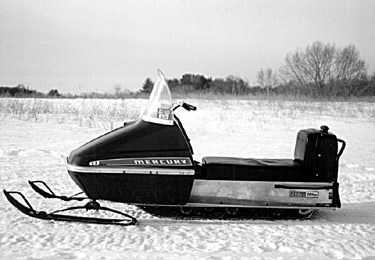 I still own this sled today, I also did get to ride it the next week end as we had a mid week snow storm for several weeks after. My buddy came up to go trout fishing at the end of April and we got 8 inchs of snow the night before.
So the Mercury was a OK sled to have fun with but was not very fast it couldn't hardly keep up with Ricks Scorpion and was in the tippy side.
Decided I am going to buy some thing bigger for the 72 sled season. I searched out snowmobilers at work as it was a growing winter sport. Listen to what they were telling me about stable light fast sleds.
My first snowmobileing bad choice was makeing my second ever sled a Artic Cat Puma. There were about 5 dealers with in a 30 mile radis and mistake ! was the dealer I chose to buy from. didn't last 6 months and closed their doors.
I had also heard the cats had cleats growser bars across the belts for traction but also easy to spin them out on hard pack snow and ice. Got to stud them so that doesn't happen.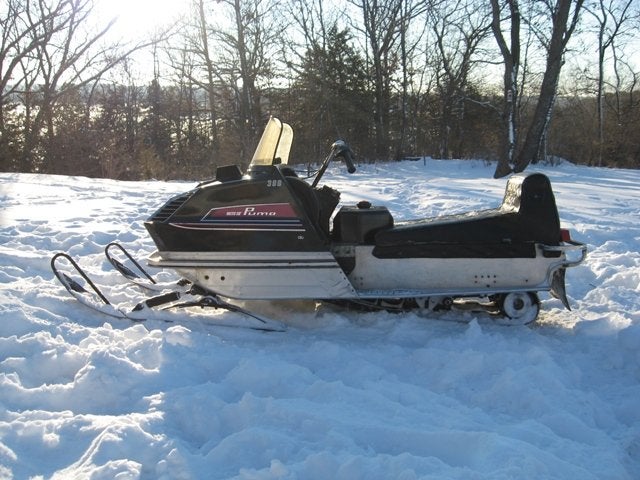 Out playing in deep fresh powder and it rolled up and dumped me off and all I could see is that spinning studded cleated track coming down on my leg. I was able to lift my foot up to stop it from coming down on my other leg when Rick rode up and shut it off.
Went and bought a pull cord kill switch for it.
I spent all spring once the snow was gone replaceing broken growser bars (cleats) took it to a near by cat shop for a summer tune up and slide replace. When Oct rolled around it was stil in the shop nothing had been done.
I bought the HYfex and took it to work lifted it and replaced them my self.
I rode it the winter of 72 and again in the winter of 73 and knew I needed a new sled as I was tired of replaceing rhe cleats every week at $1.75 each to the tune of about 10 per week.
To be continued.
Al
Last edited: