Tractorologist
Senior Member
Member
I have been needing a loader tractor with a non trip rod for the bucket. I also wanted some thing diesel so it should be easier on fuel.
I knew what ever I found was not going to be in the range of my current tractors 1938 to 1965, the 65 is a gas guzzler and is going to fund the new loader tractor.
Found a 1979 Allis 175 Diesel in great shape with decent tires and a front loader not all bent up and leaking fluids. Problems arose when the banker I live with said it was to big and costly per the year. Isn't any more HP than the 65 model that is going to fund a bunch of the new tractors cost. Even the physical size isn't any bigger. Ya but those size tractors require bigger parts when they break so are more costly buy IE to own.
OK Banker I will pass but know it is a mistake. Just what do you suggest?
Banker says a new cut tractor, so the search began. I refused to get any thing below 30HP will let the banker use a shovel and wheel borrow before I go below that size. New Holland was first because I was at the dealer to get a pricy part for the 65. They have the same basic tractor 33HP one called a boomer and one a work master. Dealer couldn't really explain the difference other than a few thousand dollars. Didn't have one in stock that was gear and had R1 tires so would be a couple months to get one if I wanted one and was set on the price. Sold Kubota's but turned up his nose when I inquired on the price. Just said I would not be as happy with it as I would a New Holland. Found out later he wouldn't make as much off the Kubota as he would the NH.
Next was a Branson dealer who I had thought sold a KTM or some thing like that but he had dropped that brand. Only had one tractor in stock a 33HP model he used as a demonstrator he said, but wouldn't even start it. Had a brush hog mounted and I picked several branches off the tractor with 2 inch thorns. Didn't have R1 tires on it had R4's, Buy the tractor and when I get a set of R1 tires in we will swap them out if you don't scuff them. Seemed rather put out when I said I was not going to do any thing of the sort it would have tires i wanted or I would not buy.
Banker also was not to thrilled with the dealer either.
Next was a Massey Ferguson / NH dealer. He starts off that I would not be happy with the Massey just so many things it didn't do that the NH did but again several thousand dollars more for the NH. Also again he would not even start any of them. Didn't have a NH with R1 tires either and then the HP went from 33 to 35 for the new models and I would have to wait for a new one to come in and they were several thousand more because of the bigger HP.
Banker was scratching her head as we left.
I decided I could probably swing the 175 Allis with out the banker once I sold the 65.
Comeing home from a car show we drove buy a Case IH dealer, decided to go back on Monday and see what they were costing. Talk about sticker shock for a horriable thought out machine Farmall. $25,000 for a 25HP machine the controls for the front loader was OK and the valveing hung nearly to the ground under the machine. I would have had that ripped off on the second day.
Again the Allis 175 is looking better.
OH there is a Kubota dealer and stand alone dealer. We stop and look at a few of the tractors he has setting in the lot out front. Go in and tell him what I am looking for and he takes us out to see a 33HP machine with R1 tires but no front loader, not to worry we have a shed full of them and shows us the shed full. Some how it get to where I am from and I tell him so he gets to talking about people I know real well as he is figureing up the money.
Sounds pretty good but we only have the pricy NH and the used Broson to compair to. We leave and talk about it on the way home. Banker really liked the dealer says nices one we have met turn around. we tell the dealer he has sold the 33HP with R1 tires and front loader.
Tuesday we sign the papers and place a worldly amount down after they give us the tour of the tractor . Agreed tractor will be delivered Friday after the tires are filled with beet juice (Rim Guard) and loader mounted. Problem we also need to wait for a pinned loader from another dealer.
Friday morning at 9:45 the dealers delivery man backed the trailer and truck into our drive and unloads the tractor and goes over the to loaders operation, we had went over the tractor on Tuesday before the Banker left the worldly amount of money with them. It came with a quick detach bucket because they couldn't get the pinned bucket in time for delivery and the extra cost was dealer ate.
So now the banker doesn't have to use the shovel and wheel borrow to build more flower beds. I can sell off the 65 and pay the banker back part of the worldly amount of money.
First chore for the new Kubota was rescue the 65 I had ran out of gas and wouldn't start even though I put 5 gallons in it. Did that well with the banker driving it, good thing we have not had rain in a while or the grass would have grown about a foot in the amount of time it took as the banker was going so slow.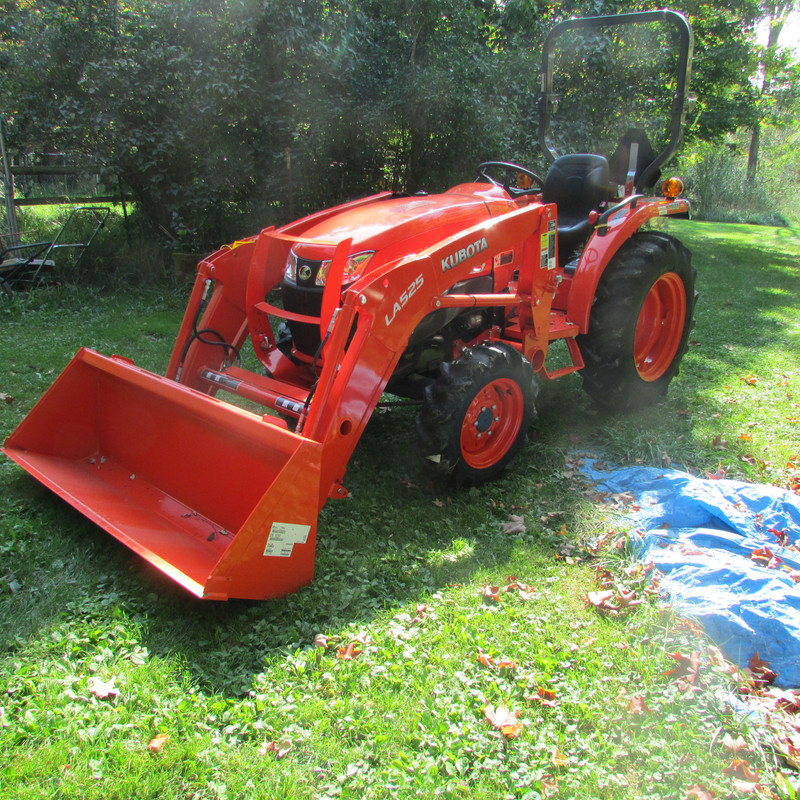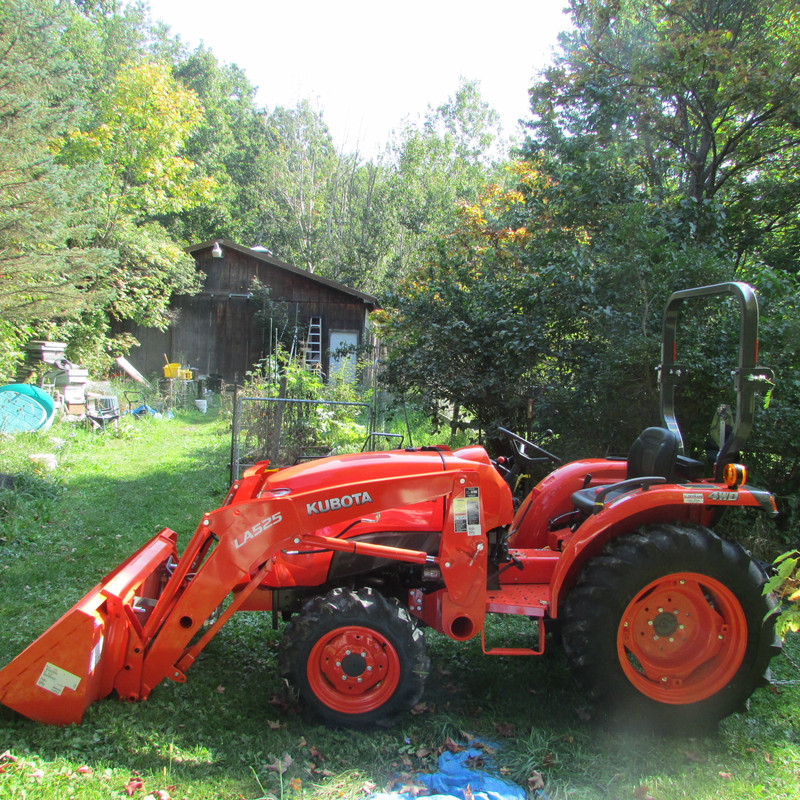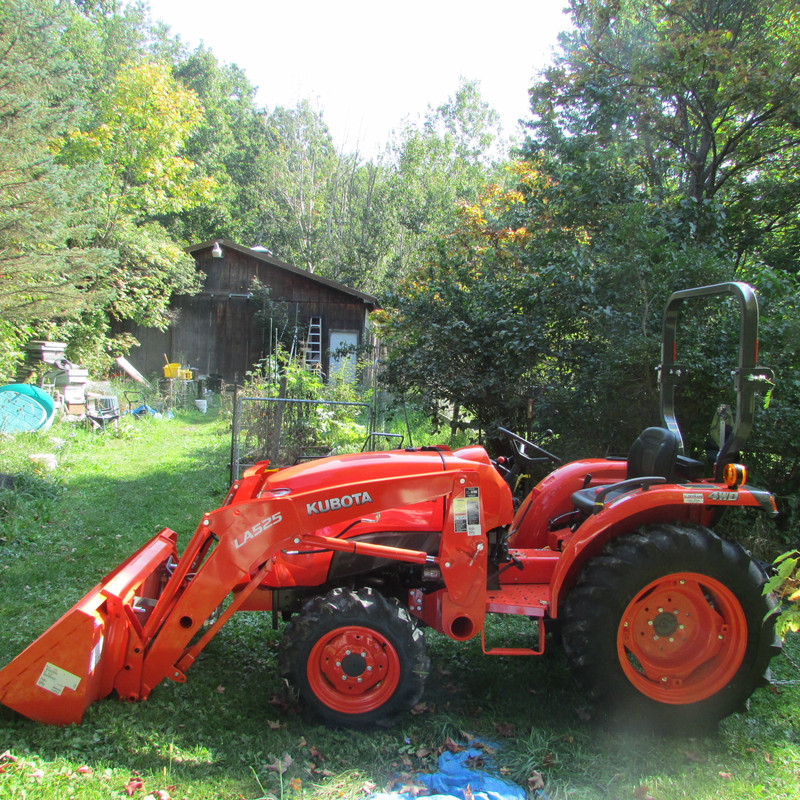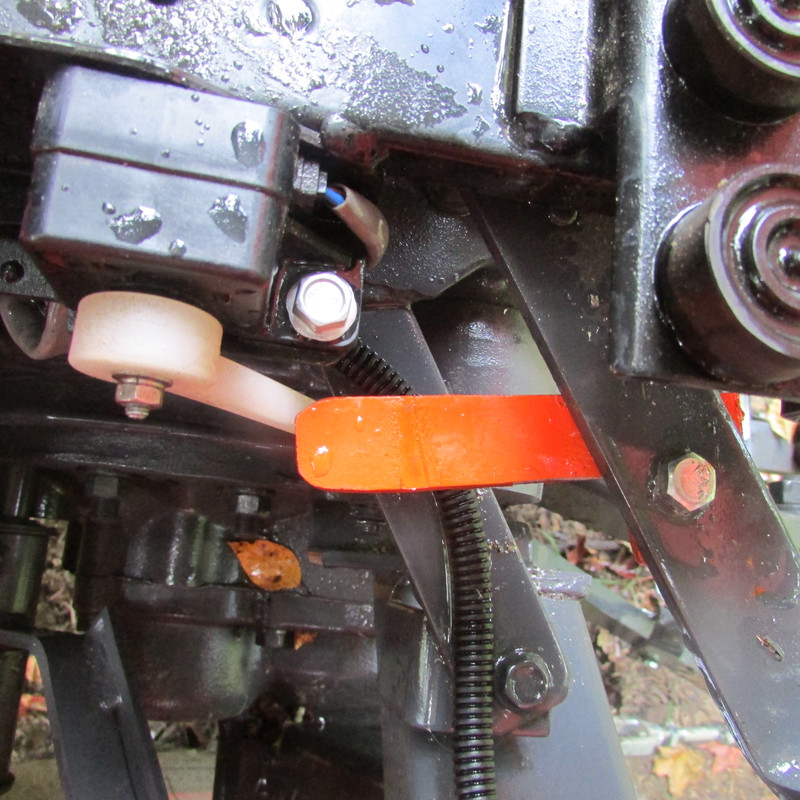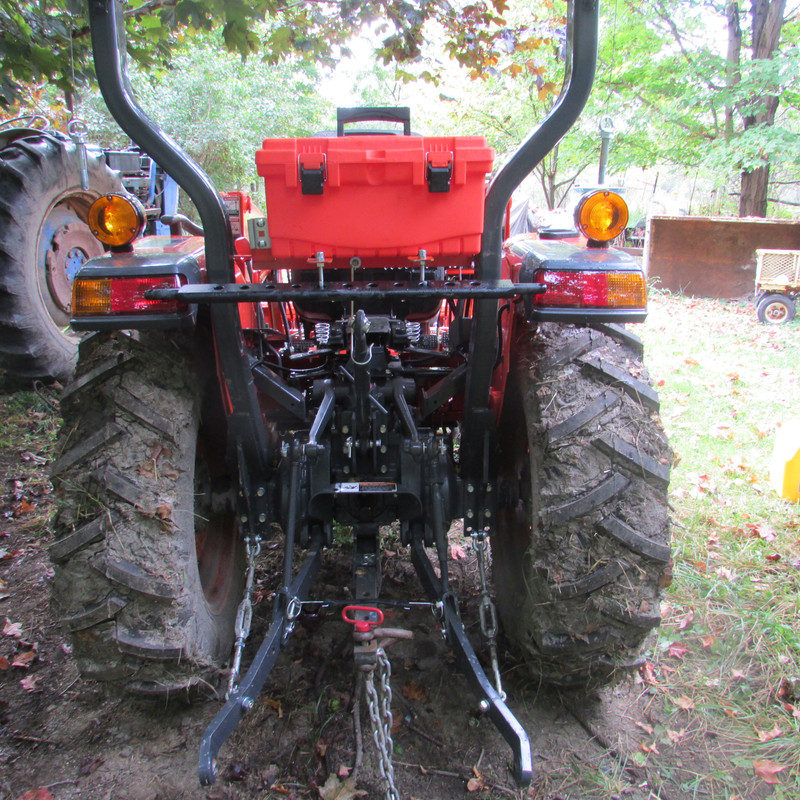 I bounced a ugly off the hood Saturday afternoon so it is mine now as the dent is identifiable. Sunday morning with the fire wood trailer in tow I got it stuck in the creek but was able to get it out with a chain and Trac Lock.
The seat safety switch tricked me off so I stopped useing it till I could fix it. Made a finger to hold the switch in run and mounted it last evening. Also got rid of the joke they called a tool box, I have old lunch boxes that are bigger. Got a real tool box and made brackets to mount it yesterday. Paint on those brackets should be dry this morning so will mount the box today. Now I will be able to carry a couple of clevises, a couple of spare chain saw chains, wrenches to change them out along with a couple of bottles of water and a sandwich or two even.
Al