Tractorologist
Senior Member
Member
I am sure many of youns know all about that, right!!!!!!!!!!
So I am wanting a tractor with a front loader with down pressure and hydrlic dump decent sized bucket. I found just what I wanted at a decent price too.
Allis 180

Banker says no it is to big and it is nearly as old as your newest Massey. Parts for that big of tractor will cost a bunch.
She says why don't you price some new tractors. Of course she ment a
Compact
. I really liked the New Holland and probably would have bought one on the spot the first one I looked at.
BUT
they didn't have one in stock with R1 Ag tires, so I would have to wait for the next delivery they would get in in a couple months one had R1 tires, but there would be a price increase because thre HP was going to go from 33 to 35 HP.
Wait a few weeks and go to check out a YTM, that dealer no longer sells them despite still being on the company dealer list. He had Bronson's but ther
33 HP one he had demoed out with a brush hog and it also didn't have R 1 tires running board was loaded with thorns from a thorn apple tree. Buy it he says and I will swap tires with you when a new one comes in. He wanted as much for the thuing as the NH tractor.
Wait a few more weeks and decide to go and check out a Massey Ferguson, dealer also sold NH and kept steering me to one of those but like the other NH dealer couldn't supply the R1 tires.
We went to a car show and drove by a Case IH dealer and there were a bunch of Farmalls on display. Monday we went to a Case IH dealer and went into shock, $25,000 for a 25 HP tractor with a front loader and all the hoses hanging down to be ripped off the tirst time you took it to the woods. Totally bummed and decideing I am going to have to rig up a cylinder on the small bucket on my Allis D 17 I head for home.
Drive by a Kubota dealer and the Banker says stop turn around and go talk to them. Yes he has a 33 HP tractor with R1 tires in stock. No loader but has a back room full of them.
So a deal it struck a L3301 beet juice in the tires and a loader NON Quick attach. to be delivered in 3 days. Banker was happy with the price and a deal was struck. When it was delivere dthe loader was a QA as the dealer found he didn't have a pin loader and promised delivery.
Boy was I unhappy with that tractor the first junt with it across the field skidding a log. Every time I turned around in the seat to see hoiw the log was doing the tractor would die.
Back at the house. flip the seat up and look at the saftey switch. I can fix that and did with a bit of strap steel and a can of allis orange paint. While I was at it I took the pencil box off and put a real tool box on it.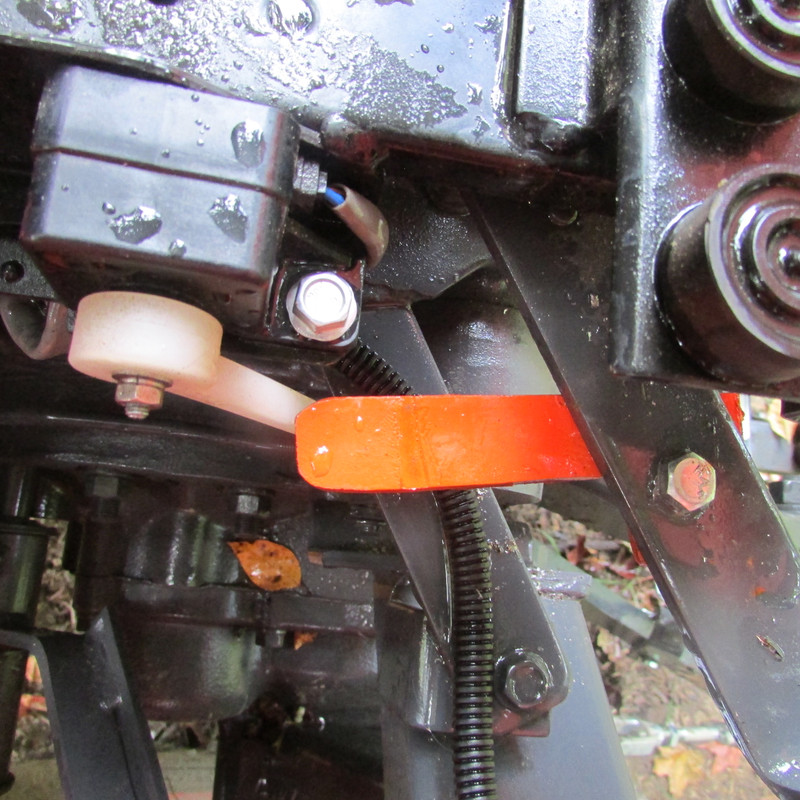 Next delema came when I had the bucket full of fire wood (Elm) and was going down the hill to the basement walk out where I stack fire wood. It was a little damp but that thing in 4 wheel drive scared the crap out of me, I droped the bucket to the ground and stood on the brakes but it is still slideing with one rear wheel off the ground.
Not enough weight even with beet juice. I have several thousands of pounds of wheel weights IH, old style, IH new style and Massery Harris. Might know they would not fit inside the Botas dish wheels.
So I rig up a rear weight with a Massey cast wheel weighs about 380 pounds. I can even add wheel weights to that. But then the 3 pt is useless.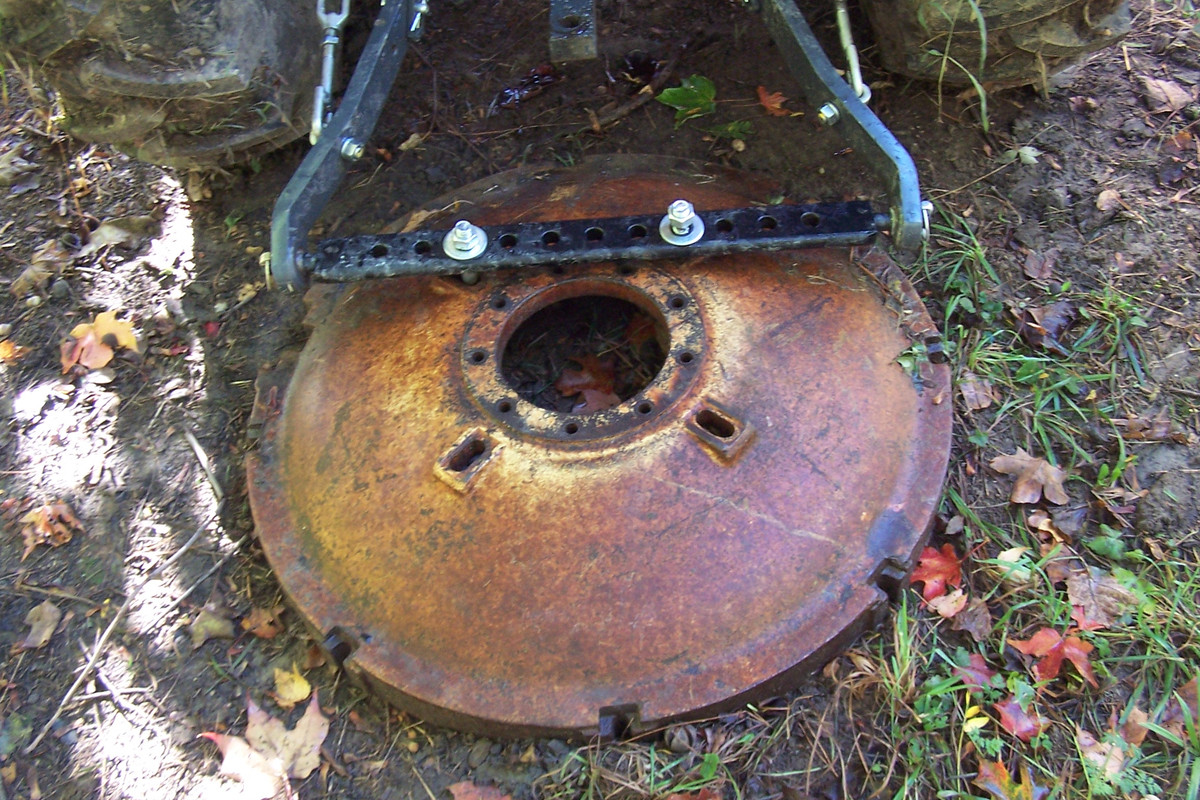 Tractor still scares the crap put of me because plain and simple is to narrow for my area and use. Also hated the 3 pt hitch every time I went to hook some thing up. those turn buckles will make a preacher cuss.
So a quick hitch was acquired. By this time the Banker is tired of me needing this and that but decided to just shut up as it was her idea.

Then we got a nice day all the snow and ice melted so I jack the tractor up and remove the rear wheels and swap sides.
Went from 50 inches to 66 inches now it is better, lot more stabil

Now price some wheel weights that fit it. Nope ain't going to happen $500.00 for a measly 1000 pounds.
Will be roaming savlage yards looking for small AMERICAN real tractors weights that will fit.
Al
Last edited: