Tractorologist
Senior Member
Member
Took a trip this morning, I'd found a "butt buggy" on CL in North KC, didn't feel like any city driving, but was able to talk the seller into meeting me halfway. We were to meet in a Walmart lot at nine this morning, I was in the store at nine when the seller called to tell me his pickup wouldn't start! I got most of what I needed at WM & started the 50 miles back home, 12 miles up the road he called again to say he got it going, so I turned around & headed back.
It's an old Nordskog Electric Vehicle converted to a gas engine (new-212 CC Predator), with new tires: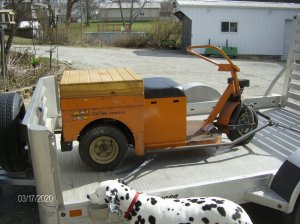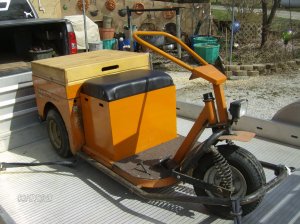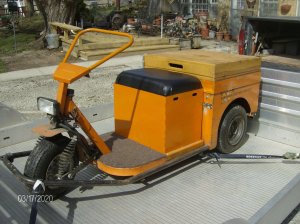 It could stand a paint job & a few "personal touches", but should make me a pretty good "personnel transporter"! It's 28-1/2" wide and 6-1/2' long, will fit beside most of my tractors on the 18' trailer.