In memory of Alice's Creator
Staff member
Moderator
Senior Member
A lot of folks want to plow, but are not versed in getting the plow set to their tractor. olcowhand wrote a fine
article
(over yonder)about this, I'm hoping this will add to the information.
Since I only have 10" &12" plows, I started by making a set up to get the tractor like it was in a furrow. With a 10" plow, you need the LH wheels up 5". Here's what I made. It's 2 4"X6" (3.5" X 5.5") blocks with a 4'+ 2"X6" screwed on top to make it 5" tall for a 10" plow.

And here is Alice 'assuming the position'.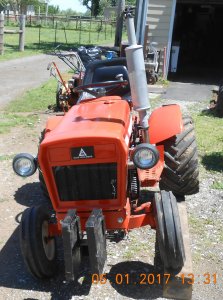 I hooked up the 10" 3-point plow (converted sleeve hitch). I adjusted everything so the plow was setting flat on the ground. This gives you a basic setting that may need tweaked when you plow.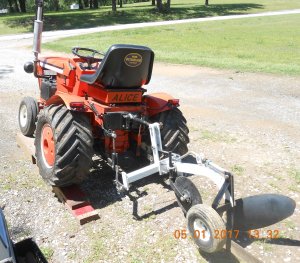 With the 3-point, you adjust the top link for getting it nearly flat forward to aft, slightly up in the rear (1/4"). Lift links on the arms adjust for side-to-side flatness. If you have a sleeve hitch plow, the only adjustment is the crank on the plow for forward to aft.
I then backed Alice off the boards and added a 1" piece for setting the 12" plow. Nothing changed from my initial settings. But ground conditions may vary and tweaking may be needed.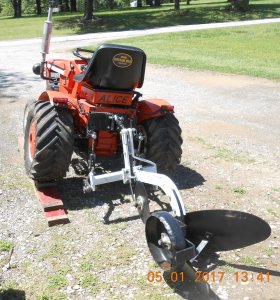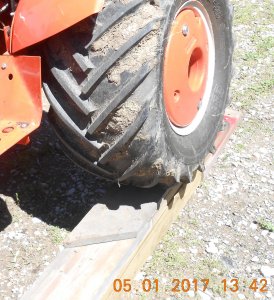 Best to read the above article and the manual for the plow. Just thought this may clarify things for some folks. Also, for those folks with a sleeve hitch, DO NOT snug the two bolts on the hitch to the plow! Let it have some swing, it will find it's center and follow you.
Also, set your lift so that when all the way down, the plow is just setting on the ground. With a 10" plow, you should have a furrow that is 5" deep.
Last edited: