Tractorologist
Senior Member
Member
Spring of 2016 I went shopping for a nice walk behind sno blower for here at home. I wasn't going to pay a small fortune like they wanted for some of them.
The last two were a Troy built branded storm model and the Sno Tec by Ariens, I can't remember what it was about the Troy Built that turned me off now. Just looked at the picture of one and it was the plastic tires.
I chose thre Sno Tec by Ariens only ran it to load and unload and go to storage then. It sat all summer.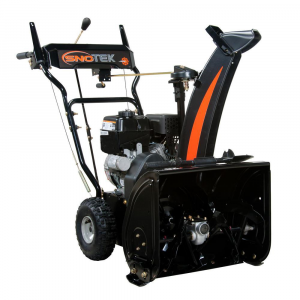 I use my Predator powered 1969 MTD at Kare's moms house, winter storm 2017 blew a auger belt. Went shopping for the weird sized belt local with out much luck except for TSC. Ther shipping they were going to charge me was more than the belt so I said NO THANKS. If I am going to pay that much shipping it will come to the house.
Needing to finish the drive there I loaded up the Sno Tec and took it over there, brought the MTD home. Happened to stop in at the local Auto Zone for some thing a couple days later and for grins and giggles I asked if they had a 5L29 belt. Sure do $9.00 and change, I bought two so I have a spare now.
Still left the Sno tec there the rest of the winter I ran some REC gas thru it for the summer storage.
Winter 2018 I go there and the Sno Tec won't start or run. Tip it up on the tub remove the float bowl remove thre float and use a pipe cleaner and carb cleaner to clean the imulation tube and got it to start but it wasn't running real good.
Do a switch again and bring the Sno Tec home to work on and take the MTD back over there. At home I have all my tools so get the imulation tube totaly out and cleaned. Once back together again I have a two pull to start engine.
But it was surgeing just left it at that since it would smooth out with a load of snow.
Some warm weather and every where you want to walk that isn't paved is mud. Going to fix the surgeing can't be any thing to hard.
Google the problem and found a you tube. Remove the slow speed jet and clean it. He recommends drilling it out with a 1/64 drill. I don't have one that size so just used my gas welding tip cleaners to work it some.
Put every thing back together and it doesn't surge any more.
Al